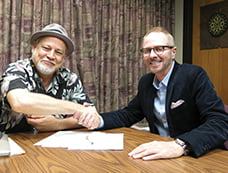 Nashville Musicians Sound Healthcare & Financial Plan
by admin
The Nashville Musicians Sound Healthcare & Financial Plan is unprecedented. We have achieved a fully insured ACA compliant True Group health insurance plan with Blue Cross Blue Shield of TN that is now available for musicians and industry professionals, and includes the National Blue PPO Networks.
Exclusively available for members of the Nashville Musicians Association, AFM Local 257. *

Option to add dental, vision, accidental injury, critical illness and life to plan.



Enrollment available ONLY through Sound Healthcare & Financial.
*If you are not a member please call Sound Healthcare & Financial to see how you may be able to participate.
VIEW AVAILABLE PLANS



Enrollment ends December 19th for January 1st, 2019 effective date
(we can enroll in this plan throughout 2019)
For pricing and enrollment information call 615.256.8667 or email info@soundhealthcare.org