We're Proud To Be Sponsoring Crested Butte Songwriters Festival
by admin
We are so happy to be sponsoring all of the fantastic events BMI is putting together 

in 2014!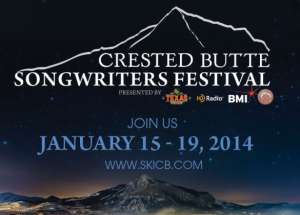 Today legends and fans alike are gathering at the Crested Butte Mountain Resort's elevation-hotel-and-spa to enjoy the Crested Butte Songwriters Festival!


The BMI event brings people together to celebrate the art of song, and the magic of hearing your favorite hits as performed by the people who created them. We hope everyone in attendance has a wonderful time, and we can't wait to let you in on other events that we are sponsoring and involved in 2014. Follow us on Facebook and Twitter for updates!