We Are Excited to Announce Today's Launch With Rooftop Comedy
by admin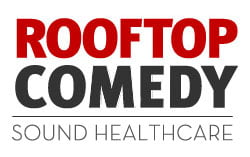 Today is an exciting day at Sound Healthcare & Financial. And a funny one too!
We are so excited to welcome Rooftop Comedy into our Sound Healthcare & Financial family of creative individuals. It has always been our mission to be there for the creative community, as creatives ourselves, so the opportunity to add the comedic community to our list of amazing clients is thrilling. This partnership is sure to liven up our Christmas parties, and we can't wait to get to work helping everyone at Rooftop Comedy find the healthcare and financial solutions that suit their needs.
Check them out at rooftopmedia.net!